February 17, 2017Read More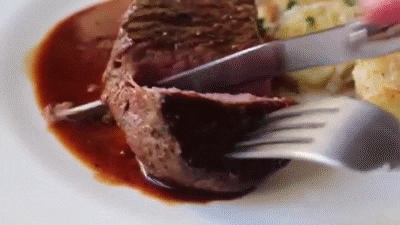 I have met very people who visit our Williamsburg Steakhouse who have never heard of the Filet Mignon. While not necessarily big on size, it is a staple of any steakhouse in Williamsburg. It is also big on flavor, coming from the what most consider the best, most tender area of the steer.
I would suspect this type of steak has been consumed for centuries in one form or another. What was new in the 20th century was the coining of the phrase itself which is filet Mignon. Translated from French it means dainty or small filet.
What Makes This Cut Of Beef So Special?
The meat is tender because of what part of the steer it is pulled from. But it also tends to have low marbling or fat in the meat. This makes it more healthy than much fattier cuts of beef. You have probably eaten one before. Whenever you order a T-bone or Porterhouse, know that the Filet Mignon is part of those cuts of meat.
Williamsburg Stea
khouse Fun Facts: The Filet Mignon
Here are some interesting facts about this cut of meat which are:
There is a National Filet Day in August of each year
A famous writer named O'Henry coined the phrase Filet Mignon
You will many times


see the Filet accompanied by Bearnaise Sauce or Bacon (wrapped around it) to keep the steak from drying out
Williamsburg Steak Sauces That Pare With The Filet Mignon
Some of the sauces you will see the Filet Mignon paired with are:
Bearnaise
Mushroom
Balsamic Glaze
Peppercorn
What Wine Pairs Well With This Cut Of Steak?
Wine pairing is an artform in itself. Here are some of the wines that go well with this Williamsburg, Virginia steakhouse favorite:
Pinot Noir
Bordeaux
Merlot
Chardonnay
The Best Way To Prepare This Steak Filet
Opinions will vary on the best way to cook this steak but as a general rule the steakhouse method we use here in Williamsburg, is the way to go. A great steak should be seared at ultra high temperature, then cooked slowly. This locks in the flavor yet still keeps it tender.
Let Our Williamsburg Steakhouse Prepare This For You
But if you are looking for a great Williamsburg Steakhouse check our our steak, prime rib, and other specialties menu. And definitely try our Filet Mignon at our Richmond Road location. And if you have a larger appetite we also have an incredible ribeye and massive Porterhouse cooked to perfection. Our Steakhouse in Williamsburg is one of the most respected and tenured steakhouses in the area. Can't wait to see you.
Our Location in Williamsburg
We are located on Richmond Road near the Christmas Mouse and across the street from the Hampton Inn and Suites

---
Other Williamsburg Steakhouse Articles
Check out our Steakhouse article on Steak Sauces
Check out more about why Fireside is Williamsburg's best steakhouse
February 10, 2017Read More
Any Williamsburg Steakhouse will tell you, Fireside included, that great steak should not be anywhere near a sauce. In fact any
steakhouse will probably tell you that steak has the flavor marbled in, grilled in, and slow cooked in by chefs who specialize in steak. Many tourists and locals in Williamsburg Virginia would agree when they are searching for best steakhouse in Williamsburg on their Iphone or steak Williamsburg on their Ipads. When we think of steak, most imagine a deep aroma, not sauce.
Nevertheless Sauce Is In The Steakhouse Equation
Sauces do play a part in many people's steak experience. For most their are 3 go to stalwarts you have probably heard of:
All have a distinct flavor which will quickly mask the flavor of any steak. Many of our patrons would not even think about sauce at our Richmond Road Dining Room, as we start with the best Prime Beef. But some just like that sauce flavor with their steak.
And when not at Fireside
Most Likely the quality of meat available in a grocery store isn't as good as a steakhouse you find here on your visit to Colonial Williamsburg, Busch Gardens,or just a night out of the kitchen. Thus a sauce might be a good quick additive to your burger or sirloin since you cannot cook it as slowly as a steakhouse oven.
Simple Sauces You Can Use
If you need a sauce here are some simple steak sauce ideas you can whip up easy for hamburgers, sirloins, or other grilling delights.
Everything near the kitchen sink
The First one is pulled from Real Simple magazine. It involves a mixture of ketchup, Worcester sauce, brown sugar, hot pepper, cider vinegar and mustard. It kind of takes the kitchen sink approach combining sauces you most likely have around the house.
Flammable 90 proof steak sauce
Martha Stewart has a sauce which combines three types of alcohol with butter or cream cheese
Balsamic Vinegar
The Food Network offers a recipe that uses balsamic vinger with ketchup, honey, worcester sauce and other ingredients to create a savory yet simple sauce
Tried and true steak sauces
You can always fall back on good old fashioned Worcester sauce or soy sauce as simple flavor agents. There are also scores of special sauces and recipes in the grocery store based upon other successful recipes
Great Steak With Or Without Sauce
I know what you are thinking, enough with the sauce talk..where in Williamsburg can I go steak sauce free with confidence. Funny you should ask. Fireside Chophouse will provide you with the sauces you want but the flavor of our meat does not require sauce, so unless you just like it, you can enjoy the taste of great steak.
The Best Steakhouse in Williamsburg, sauce optional
Come visit our steakhouse on Richmond road in Williamsburg, VA

Other Steakhouse Articles
Ultimate Williamsburg Steakhouse
February 3, 2017Read More
Making a crabcake in Williamsburg, or anywhere in Hampton Roads is an artform. I do not mean that figuratively or jokingly. As a local you learn quickly what is considered a real crab cake or an imposter. In Williamsburg, a crab cake is not a code word for a dish that is flavored to smell like crab or just taste LIKE crab. It is definitely not meant to represent a dish where small pieces of non lump meat are being placed in some goo like paste or filler. That is not a crab cake. That is a crab flavored patty.
Where Is The Crab?
It is ironic but the main ingredient missing from most crab cakes is…crab. By crab I mean lump meat crab. This is chunks of tender sweet crab meat that will be seasoned and pressed together to make a patty. As far as what crab to use I will say that traditional Maryland crab cakes come from blue or backfin crabs. If you can, try and use these. If not there are of course other varieties of crab. You may not have a choice. Just make sure it is REAL crab
Here is a quick rundown of crab cake preparation basics. This includes, the seasoning, the filler, and of course, cooking the crabcake.
Seasoning
By seasoning this can be anything that goes on the crispy brown outside of the crabcake to flavor boosters in the crab. The key is to not overseason. The taste of fresh Chesapeake Bay crab should be the dominate flavor coming through.
Filler
This is an ugly word. By filler I mean the bare minimum to hold those chunks of crabmeat together. Filler is not meant to dominate the crab cake.
Pan Fried or Broiled
Then the lump meat sensation is fried or broiled to give the outside a crispy taste.
Crab Pitfalls and Fails
This is the shame section of this article. These are all the ways good crabcakes go bad or how things that really aren't crabcakes get passed off as authentic. I must warn you, the many violations of crabcakery are shocking, so read with caution.
Imitation crab meat
Please don't ever use imitation crab meat. A crab cake depends on the taste and texture of authentic crab.
No Reverse Crab Caking
What is reverse "crabcaking"? This is when you create some other dish and dabble it with crabmeat. You then pass it off as a different type of crabcake. Not acceptable. To be a crabcake you have to have crab in a patty shape of some sort. Just my opinion. Whether you are visiting Williamsburg or not.
No Oversaucing
Old bay is a seasoning not a coverup for crummy cakes. Also too much sauce is an indicator that the crab cake isn't flavorful enough. The point of a crab cake is crabbbbbbbbb!!!!.
Not Fresh
I shouldn't even have to say this one but a real crab cake has got to be ultra fresh. Packaged frozen crab is going to taste flat compared to fresh prepared crustacean.
Filler Nightmare
I saved the worst one for last. I call this the filler nightmare. It is a crab cake that is 90% bread crumbs,parsley, and seasoning. It has a few bits of real crab in it but it is not the real thing. It is like a caricature of a crab cake.
Questionable Crab "Cake Creativity"
Look I have nothing against creativity. Especially when it is with food. But I am talking about a very specific dish here. Here are some of the things I have seen mixed into or on the crab cake which are going to hurt the flavor
Jalapenos
Corn
Runny egg
Fruit
Salsa
Red Chili
Lime Sauce
Now Let Us Get To The REAL Williamsburg Crab Cakes
Come enjoy real crab cakes at Fireside Chophouse. Even better, pair the crab cakes with our signature steaks for an incredible taste explosion.
Other Fresh Williamsburg Seafood
We also offer a number of other fresh seafood dishes like:
tuna
Salmon
shrimp
lobster
Here is the link to our menu
See you there